The 2021 Subaru Love Promise Customer and Community Commitment Award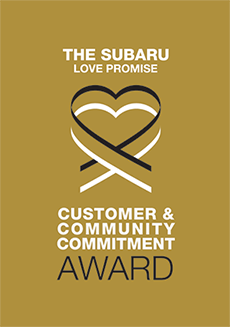 We've been nationally recognized for our dedication to our customers, our community, and the Subaru Love Promise.
We're honored to receive the 2021 Subaru Love Promise Customer and Community Commitment Award. This award nationally recognizes elite Subaru retailers who provide an exceptional customer experience at every interaction with Subaru. These retailers have also demonstrated an outstanding commitment to supporting passions and causes in their local communities in important areas such as the environment, community, health, education, and pets.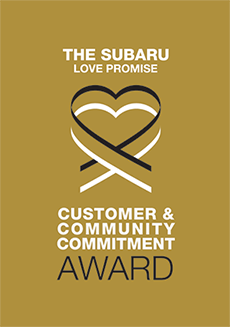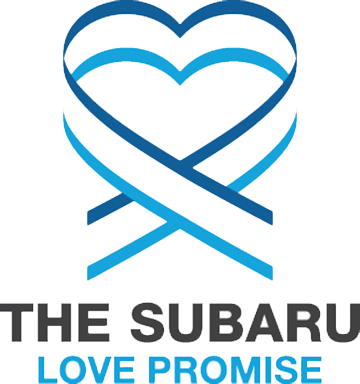 What is the Subaru Love Promise?
Subaru and our retailers believe in making the world a better place and the Subaru Love Promise is our vision of respecting all people. This is our commitment to show love and respect to our customers and to work to make a positive impact in the world.
How is West Herr Subaru dedicated locally to the Love Promise?
Our Love Promise can be seen in various partnerships with local charities and non-profits. We're grateful for the opportunity, not only to be a part of our community, but to serve it as well.
Love Promise Stories from West Herr Subaru
Subaru and West Herr Subaru believe in making a positive impact on the communities in which we live and work. We uphold that belief through our Love Promise Community Commitment. Every month, we select inspiring stories from customers and partners from around our area who strive to support our collective commitment and feature them here
West Herr Subaru Giving Back - Jenna P
As the Thanksgiving season approached, the employees at West Herr Subaru were fortunate enough to be deemed essential and continued working during the pandemic. Which provided them the opportunity to donate nonperishable food items to families in need around Western New York. Especially families who have been strongly affected by this global pandemic. West Herr Subaru and their employees donated tons of nonperishable items and 5,000 turkeys to distribute to our fellow Western New Yorkers. In collaboration with our partners at Subaru, we were able to use West Herr Subaru reusable bags for not only that day, but for their shopping needs throughout the year. We continue to strive to help our community and our neighbors whenever possible in the spirit of Thanksgiving.
---
Hope on the Horizon - Felicia G
Uncertain, Difficult & Unprecedented are all words that we have used to describe this year. Like many others, the COVID-19 Pandemic made a dramatic impact on Cradle Beach as an organization. Programming came to an abrupt halt, leaving many of our families without the services that they desperately need and leaving our organization at a loss financially. Each year, West Herr Subaru provides us with a generous and heartfelt gift. This year, that gift meant more to us than they know. Thanks to the dedicated and generous staff at West Herr, we were able to creatively fulfill our mission through virtual programs and activities, hand delivered camper gift bags, the implementation of our new Family Camping Program and offering our Summer in the City Program at limited capacity. All of those initiatives have led us to a very positive turning point in our organization. In September, our Respite Program was able to resume. The program started small, but as of November is growing and transitioning to its traditional weekend overnight format, meaning we can provide services to even more children and families! Without the support of West Herr Subaru we are uncertain where our organization would be. Their generosity and support helped us to change our perspective. During a time of uncertainty and frustration we were able to transform our outlook and focus on innovation and perseverance. We are so thankful for the guidance and support that we continuously receive from West Herr through their Share The Love Event and many other initiatives. Their support has allowed us to spread hope, joy and friendship. They have provided countless life-changing opportunities to children with disabilities and children living in underserved communities. When we think of West Herr Subaru we can't help but imagine the children of Cradle Beach smiling, playing, learning and growing together. To our friends and generous supporters at West Herr- THANK YOU!
---
West Herr Shares the Love with FeedMore WNY - Lauren H
Thank you to West Herr Subaru and to everyone who took part in the 2019-2020 Share the Love campaign! From November 14, 2019 through January 2, 2020, West Herr Subaru customers were able to designate a donation to several charities, including FeedMore WNY. The annual fundraising event raised $33,770 for FeedMore WNY! These funds will help FeedMore WNY further our mission of offering dignity, hope and a brighter future by providing nutritious food, friendship and skills training to our WNY neighbors in need.
---
2020 West Herr Subaru Loves Pets-Erie County SPCA - Phillip W
The SPCA Serving Erie County is so grateful for the love, compassion, and dedication of the team at West Herr Subaru. Their commitment to the animals in our community and making sure they are safe and cared for is amazing, and the animals (and everyone at the SPCA) are lucky to have their support! We partnered up again for this year's Subaru Loves Pets promotion and they helped earn us $3,100 to be put directly into the care of the animals at the shelter. Because at least 31 animals were adopted during the month of October, they were recognized by Subaru to gain the donation. Thank you for helping to increase viewership of our animals awaiting to find homes, especially the underdogs who sometimes get overlooked...like Theodore Flash who you featured most! Thank you for continuing to share your huge hearts with us!
---
West Herr Subaru Santa Paws---SPCA Serving Erie Co - Phillip W
The SPCA Serving Erie County is once again thrilled to have partnered up with West Herr Subaru for their Santa Paws event. West Herr Subaru hosted a pet photo session where families could capture their furry family members in holiday attire alongside the big, jolly guy in red, Santa Claus. Families also enjoyed some holiday activities and treats during their visit. The proceeds of the photo shoot were then donated to the animals who are still looking for a home this holiday season. Thank you for creating special memories for pets with families and providing love for animals during their stay with us until they find their forever homes. Happy Holidays!!
---
West Herr Subaru Supports Student Readers - Terry T
West-Herr Subaru recently donated several books to help support our Readers Workshop program. These books will be essential to classroom teachers as they work to build classroom libraries with high interest books. We greatly appreciate the support of West-Herr Subaru and value our partnership with such a generous community based company. Terence Tryon, Principal. Eggert Road Elementary School
---
Cradle Beach - Felicia G
Cradle Beach provides hope, opportunities and life changing experiences to children to disabilities and children from low income backgrounds. Cradle Beach is a place where children from all walks of life to can come together, where they can learn the meaning of acceptance, friendship, love, hope and compassion. The life lessons that the children of Cradle Beach learn changes their lives, builds character and helps them grow into the best possible version of themselves. Thanks to Subaru's Share the Love Event we can continue to change the lives of Western New York's most vulnerable children. More than 65% of the population we serve lives below the poverty live. Funds raised from Subaru's Share the Love Event will be used to send those children to camp this Summer. We are so incredibly thankful for the support we have received from West Herr Subaru over the past three years. Without you, we would not be able to change the lives of over 800 children this Summer.
---
SPCA Serving Erie County Subaru Loves Pets - Philip W
The SPCA Serving Erie County is proud to have partnered with West Herr Subaru for this year's Subaru Loves Pets event.We received many wonderful items for our animals to help make their stay here at the shelter more comfortable and enjoyable until they find their new forever home. They also will have many great items to take home with them including toys, leashes, cleaning wipes, and bags for their owners to carry their belongings. On behalf of the board of directors, staff, volunteers, and most importantly, the animals, thank you for your thoughtful donation.
---
Carving for a cause - Brian O
On Saturday October 26th we held a pumpkin carving event aptly named "Carving for a cause" with all donations to benefit Heart, Love and Soul a food pantry, dining room and social organization in Niagara Falls. We gathered to assist them in their capital campaign for their new Daybreak site! The new Daybreak site, a one-stop center, will provide an additional 6,000 sqare feet of shared space, where multiple agencies will co-locate to deliver employment, education, housing, health, legal, and other services. In addition the daybreak center will offer shower and laundry facilities, a multipurpose community room and computer lab. With the assistance of West Herr Subaru and the Share the Love campaign we were able to raise over $500.
---
2019 West Herr Subaru: Ride for Roswell - Maria D
West Herr Subaru continues to support the annual Ride for Roswell!
---